Weltklasse Zurich has been writing athletics history for almost 100 years. This year, the meeting hosts the final of the Wanda Diamond League again. Year after year, athletics fans, families and other event visitors flock to Letzigrund Stadium in late summer. In recent years, the number of Swiss athletes competing at Weltklasse Zürich has been increasing steadily, as has the number of local talents. And top performances Mujinga Kambundji, Simon Ehammer and others are currently putting the small country on the international map of athletics. The trend is a result of long-term efforts by Weltklasse Zürich and its partners, all of which have also already been investing in social sustainability.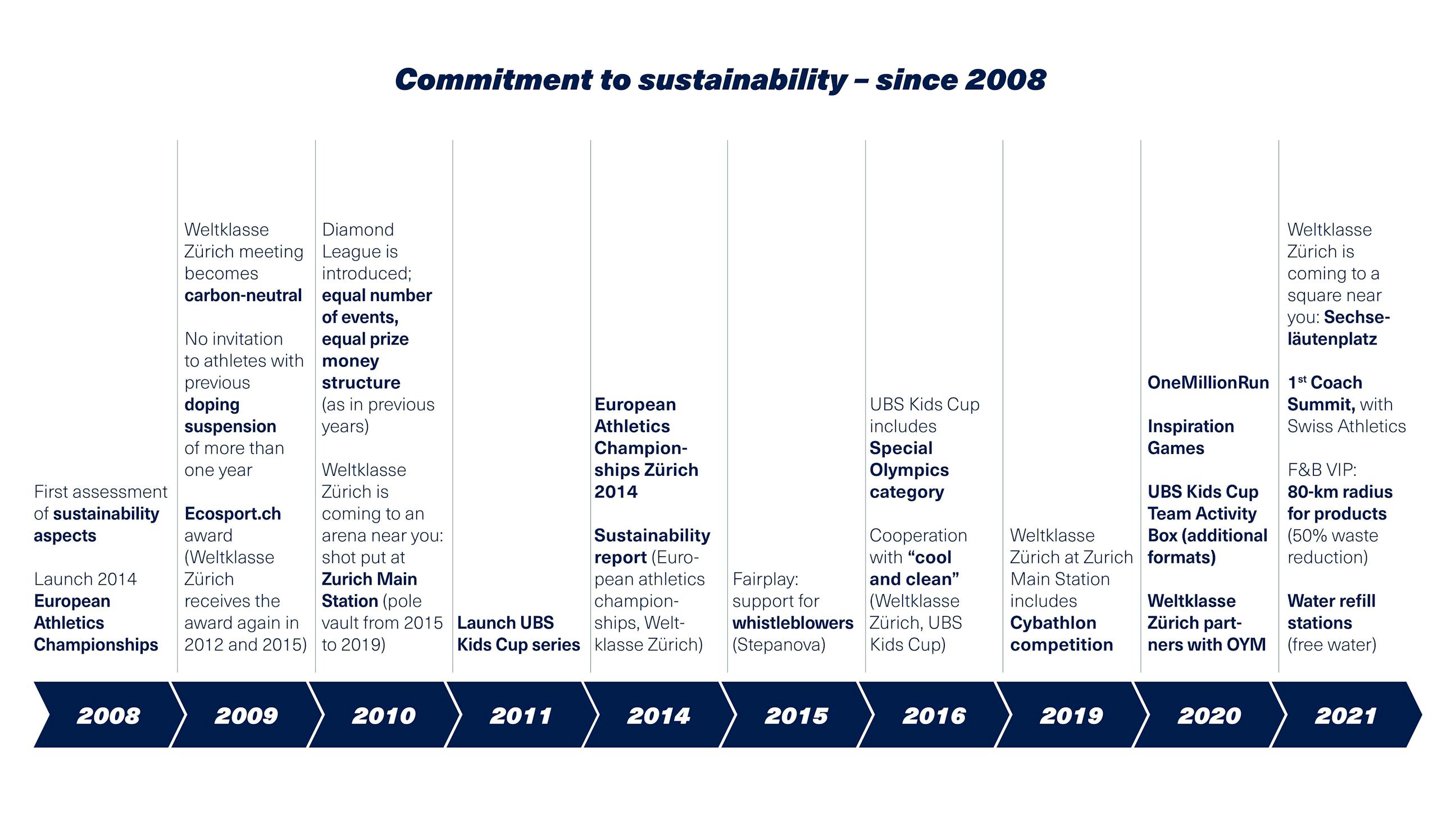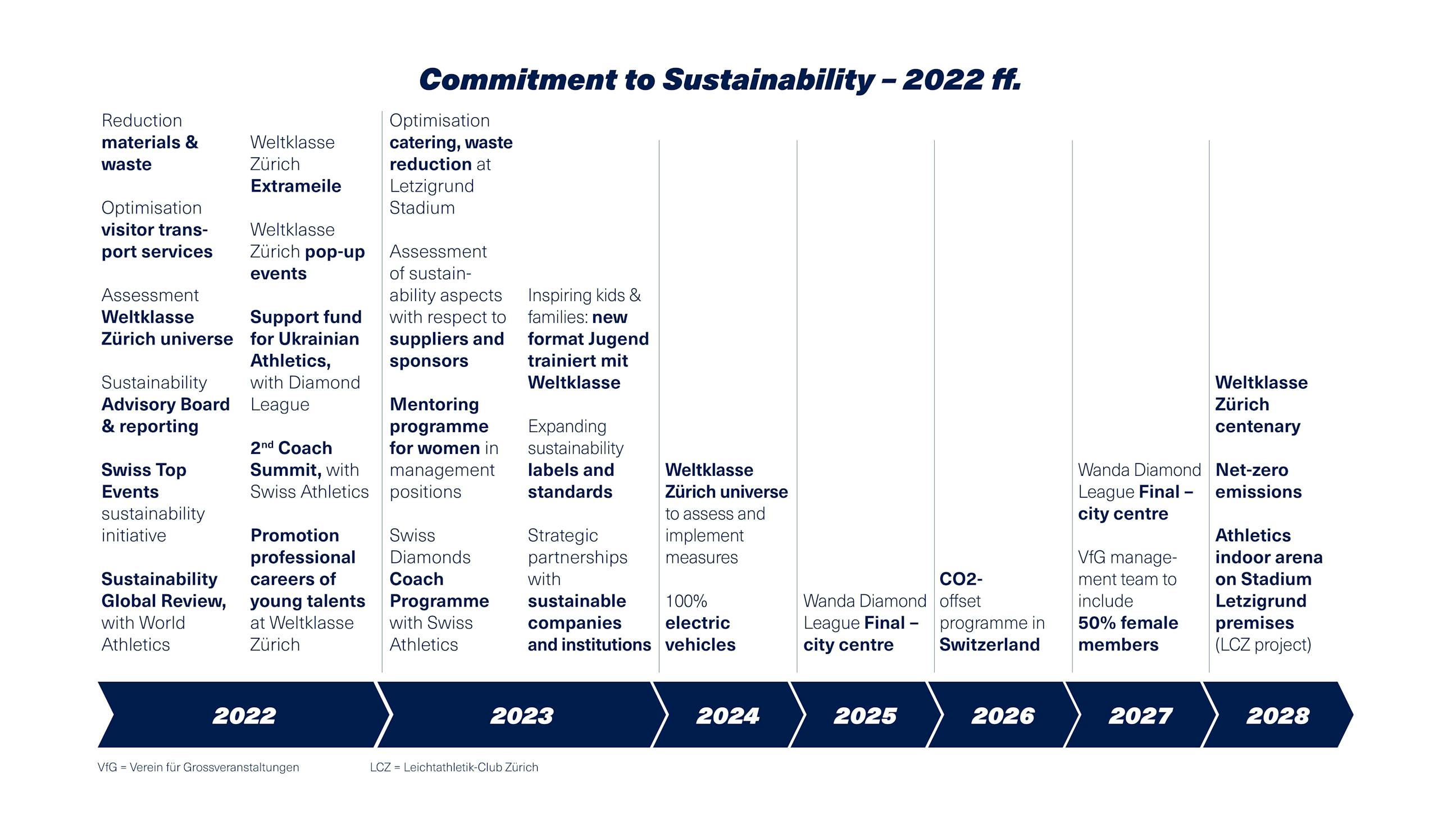 To position themselves for the years to come, Weltklasse Zürich has set a number of ambitious goals: net-zero emission, additional commitment for families and society in general, specific initiatives to promote women and coaches. "At Weltklasse Zurich, we strive to be pioneers. Our ambition is to be 'Weltklasse' both on and off the track. Because of that, we have initiated some very important projects. And we will, of course, live up to our motto. We will 'never stop getting better', and will always set our goals high – with respect to the environment, to social aspects, and to economic sustainability," Co-Meeting Director Christoph Joho explained. 
Target for the Weltklasse Zürich universe: net-zero emissions by 2028
Weltklasse Zurich started its process to become sustainable with a comprehensive analysis in 2008. Only one year later, first measurements were put in place, and the meeting became a carbon-neutral event (since 2009). Promoting the use of public transport, focusing on regional products and additional measures, including the cancelling of helicopter flights for athletes and abandoning LED lights for the closing ceremony, were aspects of the new approach. 
Emissions that cannot be avoided are compensated through certified climate projects. But Weltklasse Zürich intends to go the extra mile. "We want zero emissions for the entire meeting universe by 2028," Christoph Joho declared. "We will have to prove our innovation prowess in various areas to do this. However, we feel that taking this future-oriented, game-changing step is paramount."  
"Weltklasse Zürich is coming to an arena near you." – More projects on all levels  
The mission of Weltklasse Zürich is to promote athletics on all levels. The meeting organisation's work thus includes innovative events taking place outside Letzigrund Stadium. The UBS Kids Cup youth initiative and its winter edition UBS Kids Cup Team, for instance, have drawn nearly 1.5 million children and teenagers between the age of seven and 15 years. As a result, the number of young athletes in athletics has grown considerably since the first edition of the event series in 2011.
In addition to the special venue for some Wanda Diamond League final events on Sechseläutenplatz (with free admission to all competitions), there will be several pop-up events during the week leading up to the meeting, including the "Weltklasse Zürich Extra Mile", a new school project.
Equal pay and gender parity
Equal pay – equal payment of male and female athletes – has been a Diamond League policy ever since the first season in 2010, and it was practised at Weltklasse Zürich even in the years before that. 
Gender parity, too, is a priority for Weltklasse Zürich. Equal numbers of female and male UBS Kids Cup participants, volunteers, as well as members of the team and organising committee is our organisation's maxim. By 2027, the same equilibrium will be reached in our management team. To prepare women for future managerial functions, Weltklasse Zürich will launch a mentoring programme. 
A high six-figure amount for Switzerland's athletics community 
On a local level, Zurich's athletics club Leichtathletik Club-Zürich (LCZ) is the most important and most long-term beneficiary of Weltklasse Zürich. The meeting provides financial and human resources and much know-how to the club, but also to federations, other clubs and organisations, as well as institutions of higher education. 
Internationally, Weltklasse Zürich works with the Wanda Diamond League and shares professional knowledge, is active as a member of the series' governing board, and offers support to developing meetings. In addition, Weltklasse Zürich launched a Diamond League initiative to support athletics in Ukraine financially this spring. Our work is significant on a national and on an international level, and is reflected in the efforts of the sport's main institutions, including Swiss Athletics, World Athletics, and the Wanda Diamond League.
The high six-figure amount the meeting generates every year is reinvested – in the future of athletics, and in athletes, coaches, and the sport's structures in particular. Building an athletics indoor arena on the Letzigrund premises to entrench the sport in Zurich even further is an additional long-term goal.
An athletics innovation cell – with added value for society
Weltklasse Zürich joined forces with the Athletikzentrum für Spitzensport OYM in Cham to create an athletics innovation cell. To Swiss Athletics, the meeting is both a project and a sparring partner. All organisations involved share a focus on promoting the sport and its stars. Launched in 2011, the UBS Kids Cup series has become an unparalleled youth sports initiative. And there are other successful projects, including "Leichtathletik 2030" or the coach summits held during the meeting week in Zurich. In future, there will be further forums to share knowledge regarding sustainability and for cooperations for the benefit of the sport of athletics. 
Advisory Board and transparency
The evaluation and development of sustainability goals will take centre stage with regard to organisational aspects of Weltklasse Zürich in future. It will be a focus of the meeting's organising committee, and in addition, we will create an Advisory Board to analyse and evaluate all processes continuously. Annual reports will show how Weltklasse Zürich progresses with regard to its sustainability goals. 
The Weltklasse Zürich approach entails a full commitment to sustainability and the corresponding ambitious goals: "Never Stop Getting Better."